SPXTrader SCALPER MTF INDICATOR
The Scalper MTF Indicator was initially developed and tested for Index Futures (Emini S&P and Nasdaq futures). However, the principle of Scalper MTF is applicable to all liquid instruments and can be used for day trading liquid assets like AMZN/TSLA/AAPL etc.
PLATFORM
Scalper Indicator is only available for Thinkorswim platform. Other Trading platforms aren't supported yet. There are no plans to port the indicator to other platforms.
Note that Scalper is ONLY an indicator. Since Thinkorswim DOES NOT support AutoTrading, all trades need to be taken manually.
SIGNALS
Scalper MTF looks compares price extremes using a proprietary algorithm across different timeframes generating trading signals. The default, NonRepaintAggressive Mode generates a lot of signals since it embodies a "Trend Follow" mindset along with the reversal mindset. Here's a sample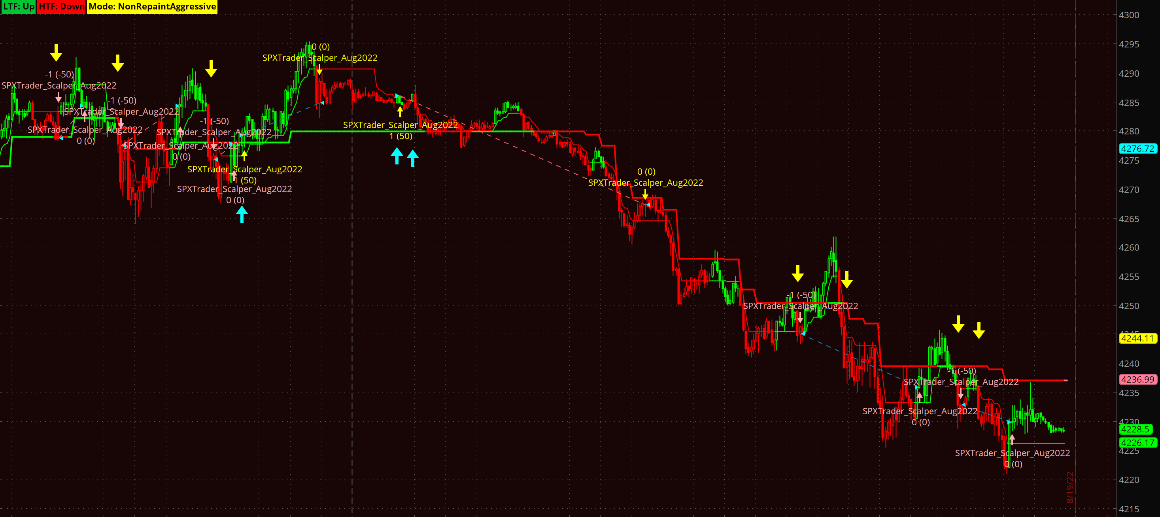 It is obviously impossible to follow all suggestions in this mode. However, it is useful to confirm your bias for manual trades. Since this mode attempts to follow the trend, the entries can be more flexible than the normal scalper.
SCALPER VS CEDAR
Scalper is a generic strategy and can be applied to a variety of assets (including /ES) whereas Cedar contains various trade models (including the one used by Scalper) and optimizations specific that can only be used with /ES. Scalper operates at shorter timeframes (recommendation is 5m vs 15m for Cedar) leading to higher number of entries/exits than Cedar.

MOBILE SUPPORT

Scalper DOES NOT work on Thinkorswim Mobile app as the mobile app does not allow multi-timeframe strategies. This cannot be fixed in an update until ToS provides support for multi-timeframe strategies in their app.
ENTRIES/EXITS
Since Scalper MTF works are a higher timeframe, individual attention is needed to manage a trade using the signals. The Exit signal on the timeframe can be delayed in some cases and thus it is highly recommended to lock in gains partially as the trade moves in favor.
Scalper fires a potential signal notification is fired before the bar closes. If the bar closes favorably, a trade signal is fired with the opening value of the next bar.
The following video shows Scalper firing Buy signal in real time.
AUTO TRADING
Thinkorswim strategies DO NOT support AutoTrading. All trade signals from scalper need to be placed manually.

SCALPER UPDATES
Updates for Scalper are included for all purchases before May 31st 2021. For all purchases starting Jun 1st 2021, Scalper updates will be charged $100/yr

REPAINTING
Scalper includes a RepaintingAggressiveMode where Scalper MTF can sometimes "repaint" signals i.e. the signal may appear in real time and may disappear at a later time due to unfavorable price movements. This happens due to the internal calculations done for Higher TimeFrame levels in Lower TimeFrames.
Allowing for repainting, however, Scalper MTF can fire the signal early leading to a better entries but an unfavorable price movement within the Higher Time Frame may cause the signal to disappear. If you allow for Repainting, please make sure you are managing the trades with appropriate stop as Scalper MTF may NOT fire a stop-out signal.
If you do not want to allow Repainting, please use the default NonRepaintAggressive mode.
NOTE: The Report cards below are using NonRepaintAggressive mode.
PRICING
Scalper indicator is now available for a one-time payment of $999

Disclaimer:
By purchasing/subscribing you agree to be bound by the terms and conditions set forth herein.
SPXTrader.us is not registered as a securities broker-dealer or an investment adviser either with the U.S. Securities and Exchange Commission (the "SEC") or with any state securities regulatory authority. We are neither licensed nor qualified to provide investment advice. Information or alerts provided on this website, twitter or any of its affiliates are for informational and educational only and shall not be relied upon as personal financial advice. By subscribing, you agree to release and hold "spxtrader.us" and any associated entity completely harmless from any and all financial losses that may occur for any reason or cause including but not limited to tweets, emails, and internet posts. Any reference to a specific trading strategy/indicator is only to assist in learning, and shall never be relied upon when making future investment decisions. Trading stocks, options, and futures involve substantial risk. All investors must evaluate the investment they are interested in, and shall not rely upon the opinion of spxtrader.us or any of its employees or affiliates. All sales are final. There is no refund.