SPXTrader CEDAR-DAX STRATEGY
Cedar-DAX is a combination of multiple trading models developed over time. It compares two timeframes for the underlying algorithm and determines the direction of trades when the two timeframes align. It also trades pullbacks while following trend as well as breakouts/breakdowns.
Here's Cedar's performance on /FDAX TradingView (Apr 1 - Jun 28 2020)

Here's Cedar's performance on /FDXM TradingView (Apr 1 - Jun 28 2020)

The signals from Cedar-DAX appear on the chart as shown below


PLATFORM
Cedar Strategy is only available for TradingView platform. Other Trading platforms aren't supported yet.
Cedar-DAX requires access to live data feed for /FDAX. In some cases, the extra data cannot be added to Basic (Free) TradingView accounts. Please check with TradingView support for the matter.
Not a TradingView member? Sign up here and get $30 credit
ASSETS
As the name implies, The Cedar-DAX strategy has been developed and backtested for DAX Futures (/FDAX) and Mini Dax Futures (/FDXM) only
Due to slight variations in price/volume, the signals generated across /FDAX and /FDXM can vary.
CONFIGURATION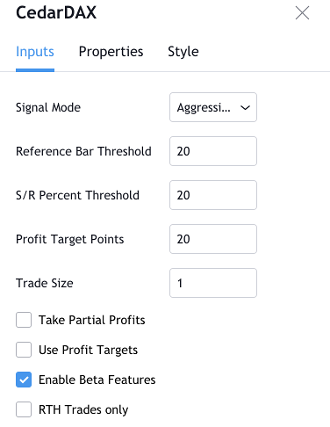 Recommended Chart TimeFrame: 5 minutes
Signal Modes: Aggressive/Vigorous/Scalp control the underlying models used to fire trade signals. Depending upon the intensity, the quality of the signal and therefore win rate for the strategy varies.
S/R Percent Threshold (Default 20) controls the sensitivity of the strategy. The higher the percent threshold, the lower the propensity to follow the trend on semi-extreme conditions. Range (0-99). Values >= 100 may have unspecified reactions.
ALERTS
Cedar-DAX Strategy alerts can be set up using TradingView.
It is recommended to set up alerts on /FDAX and /FDXM as signals on either asset is equally valid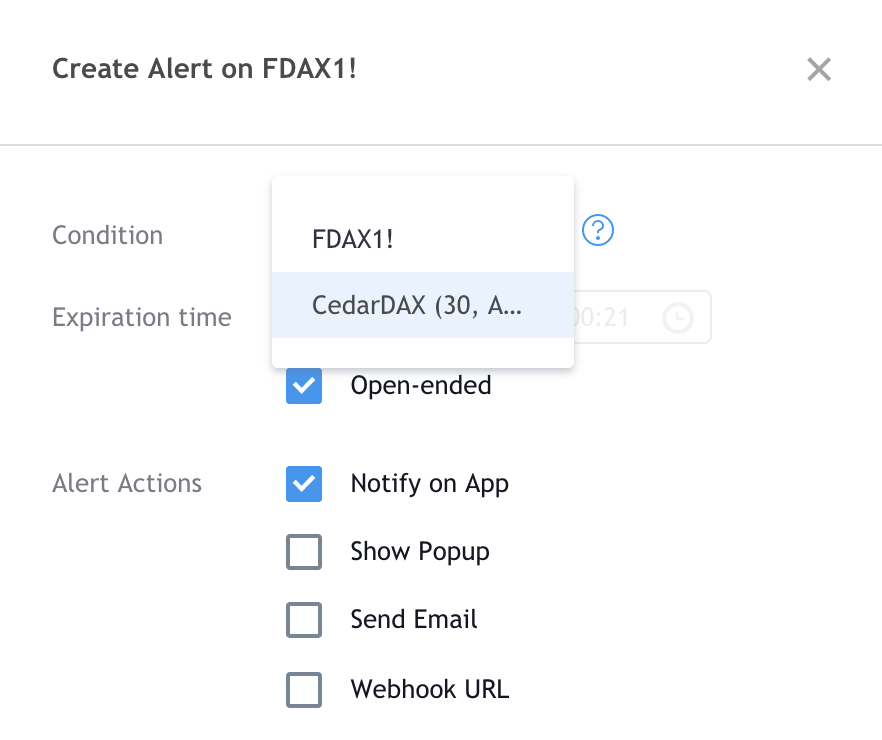 For Step by Step instructions about setting up alerts, Click here
AUTO TRADING
TradingView strategies DO NOT support AutoTrading custom strategies.
PRICING
Cedar Strategy is available as a monthly subscription with a 7-DAY FREE Trial and €210 per month afterwards.
Subscribe via PayPal below and reach out to https://twitter.com/SPXTrades via a DM with your TradingView account username to get access to the strategy
Disclaimer:
By subscribing you agree to be bound by the terms and conditions set forth herein.
SPXTrader.us is not registered as a securities broker-dealer or an investment adviser either with the U.S. Securities and Exchange Commission (the "SEC") or with any state securities regulatory authority. We are neither licensed nor qualified to provide investment advice. Information or alerts provided on this website, twitter or any of its affiliates are for informational and educational only and shall not be relied upon as personal financial advice. By subscribing, you agree to release and hold "spxtrader.us" and any associated entity completely harmless from any and all financial losses that may occur for any reason or cause including but not limited to tweets, emails, and internet posts. Any reference to a specific trading strategy/indicator is only to assist in learning, and shall never be relied upon when making future investment decisions. Trading stocks, options, and futures involve substantial risk. All investors must evaluate the investment they are interested in, and shall not rely upon the opinion of spxtrader.us or any of its employees or affiliates. All sales are final. There is no refund.